1973-2000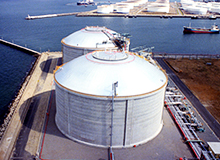 (8)Pre-stressed concrete type (PS-type) cryogenic tank.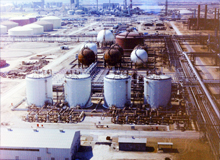 (9)The tanks that construction was interrupted.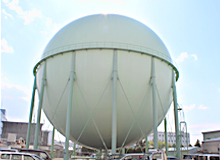 (10)The spherical gas holder as one of the largest one in Japan.
Constructed the original dry-type Gas Holder. (100,000m3)

Constructed a double wall LNG cryogenic tank. (32,000 kL)

Constructed the largest metal double wall low temperature tank (21,409m3 ethylene and 11,000m3 ethane) in the world (at that time) for Algeria.
Constructed a spherical Gas Holder for city use. (100,000Nm3)
Constructed the first pre-stressed concrete type (PS-type) cryogenic tank for ethylene in Japan. (6,000 kL) ※Photo(8)
The construction of over 120 steel tanks in Iraq was interrupted by the Iranian Revolution. ※Photo(9)

Constructed two units of PS-type cryogenic LPG tank. (80,000 kL)

Constructed a gas generator for the city using the ISHII-GWM method.

Constructed a water slide 500m in length, which is the longest in the East Asia. (Adventure Slider (TM)).

Constructed and exported a water park for Taiwan.

Started real estate leasing.

Constructed an ethylene cryogenic tank (20,000 kL) with a re-liquefaction facility in Taiwan on a full turn-key basis.

IIW ENGINEERING CO., SDN. BHD.was established in Johor Bahru, Malaysia.

Constructed a spherical gas holder for town gas (200,000 Nm3), which remains one of the largest in Japan. ※Photo(10)

Constructed a LNG satellite system for town gas.

Constructed an LPG import terminal in China including two units of LPG cryogenic tanks (69,000 kL) on a full turn-key basis.
Middle East War(Iran)
We had planed to construct over 120 units of several kinds of tanks for IJPC project in Iran.
However, the construction was interrupted before completion by Iran Revolution in 1979.
The story that all employees who engaged in this project escaped with bare life to Japan by various assistance has been handed down.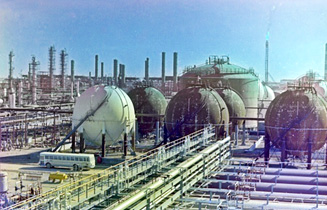 The tanks which construction was Interrupted.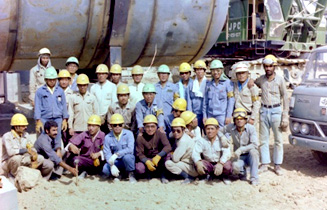 Supervisors and workers